Steve jobs one of Leader for inspiration to me ,or may be for you also , Well known former CEO of apple is now used for selling android tabs in Taiwan.In Taiwan recently , ad that contain Steve job like person , who dressed full like Steve jobs selling android tabs with some funny talks.
It is clever PR or crass stupidity ?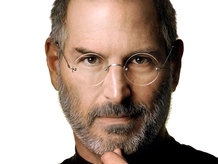 The likeness is... what's the opposite of uncanny?
In my opinion is stupidity , we should respect jobs for Innovation of ipad , iphone like extra-ordinary phone,tabs that are now ruling in market but Taiwan businessman's need to understand it , they just crossed line of stupidity with this , selling android tab with his name with Crass.