Social Engineering
Introduction
:
Social Engineering is act of manipulating the person o accomplish goals that may or may not be in the "target's" best interest.

This may include obtaining information, gaining access, or getting the target to take certain action.
Social engineering" as an act of psychological manipulation was popularized by hacker-turned-consultant Kevin Mitnick. The term had previously been associated with the social sciences, but its usage has caught on among computer professionals.
Social engineering techniques and terms :
Pretexting is the act of creating and using an invented scenario (the pretext) to engage a targeted victim in a manner that increases the chance the victim will divulge information or perform actions that would be unlikely in ordinary circumstances. An elaborate lie, it most often involves some prior research or setup and the use of this information for impersonation (e.g., date of birth, Social Security Number, last bill amount) to establish legitimacy in the mind of the target.
Phishing
Phishing is a technique of fraudulently obtaining private information. Typically, the phisher sends an e-mail that appears to come from a legitimate business—a bank, or credit card company—requesting "verification" of information and warning of some dire consequence if it is not provided. The e-mail usually contains a link to a fraudulent web page that seems legitimate—with company logos and content—and has a form requesting everything from a home address to an ATM card's PIN.
Who is Kevin Mitnick?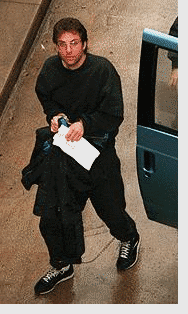 The picture that emerged after his arrest in Raleigh, N.C. last February was of a 31-year old computer programmer, who had been given a number of chances to get his life together but each time was seduced back to the dark side of the computer world. Kevin David Mitnick reached adolescence in suburban Los Angeles in the late 1970s, the same time the personal computer industry was exploding beyond its hobbyist roots. His parents were divorced, and in a lower-middle-class environment that lacked adventure and in which he was largely a loner and an underachiever, he was seduced by the power he could gain over the telephone network. The underground culture of phone phreaks had already flourished for more than a decade, but it was now in the middle of a transition from the analog to the digital world. Using a personal computer and modem it became possible to commandeer a phone company's digital central office switch by dialing in remotely, and Kevin became adept at doing so. Mastery of a local telephone company switch offered more than just free calls: It opened a window into the lives of other people to eavesdrop on the rich and powerful, or on his own enemies.
Mitnick soon fell in with an informal phone phreak gang that met irregularly in a pizza parlor in Hollywood. Much of what they did fell into the category of pranks, like taking over directory assistance and answering operator calls by saying, "Yes, that number is eight-seven-five-zero and a half. Do you know how to dial the half, ma'am?" or changing the class of service on someone's home phone to payphone status, so that whenever they picked up the receiver a recorded voice asked them to deposit twenty cents. But the group seemed to have a mean streak as well. One of its members destroyed files of a San Francisco-based computer time-sharing company, a crime that went unsolved for more than a year -- until a break-in at a Los Angeles telephone company switching center led police to the gang
How To Use Social Engineering Tool Kit ?


More will added soon.................